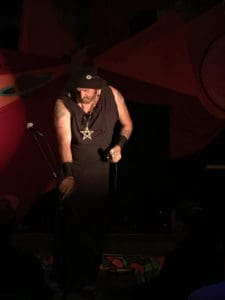 Ain't gonna lie: I am only making time to post because it's the last day of November and I try to do that once a month thingy… A LOT has been happening. So Achilles, remember that drunken night when you and your buds were like "it'd be so cool…" and now you're like CRAP it's 6 weeks away and I have to design an entire show. Not to worry, anal retentive super organizer DLB is on it! We actually have set this time, sort of, we have banners 🙂 and of course the costumes are looking super cool! MAUI FRINGE HERE WE COME!!!!
Oh by the way the above pic is my introducing The Sun is in Her Belly at Planet Queer. It was pretty friggin' cool! Who knows what we will do next with it. I'll edit the video soon and post it for the solstice!
Applying for History of Drag is boring and stressful. No one gets back in a timely fashion! And you know, patience is not my strong-suit. But it looks like Brighton is happening and Desert Rose said YES YAY YAY YAY but don't have date which makes a nice excuse to go this weekend! I am also doing my first craft faire with my spell jars. Wish me luck!