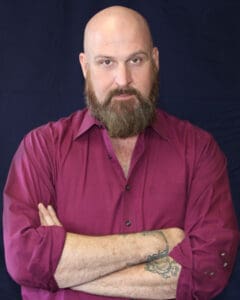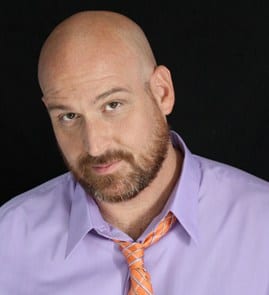 David LeBarron's love of storytelling started in 3rd grade when he reenacted the story of the birth of Athena (lead). Taken by the "Muses" he wrote and directed many plays in his backyard, making props and sets out of his Mom's linen closet and  furniture. Luckily, no one told him to stop.
His Mom's sheets are safe but nothing else is.
---
---
Solo Shows:
The Complete History of Drag in a Few Mo-mo won Encore Award for Artistic Excellence Hollywood Fringe. Orlando Fringe "fiercely fabulous."                                   Proud Kids LGBT stories for families and allies                                                               Magickal Monsters monsters want to make a better world                                                   The Chronicles of Steve the Bossy Bottom LA and NYC Fringe Festivals "Very funny, hilarious, side splitting. A Sharp, satirical eye of an experienced monologist. GO!" LA Weekly
David emcees a yearly benefit for Kageno and organization bringing healthy choices to impoverished people in Africa.
---
---
Half Tongue Tribe
Rock n Roll meets Witches in their exciting debut album "All Acts of Joy…"  Pagan Pages said, "excellent.. single one of these songs are great!"
---
---
Author
When Carrots Ruled the World a children's book having fun with carrots and their kind ruling over the garden
En Elf to Live For an adult fantasy novel about two old Elves who find love after decades of trials and torment.
Any Given Day in 2012 which is a cultural exchange between young people of Echo Park, a neighborhood of Los Angeles, California, USA, and young people in Banda Village, Rwanda, Africa. That program is now listed and available at TED Talks Education
---
---
Theatre (producer)
APT 3f co-founded company through which he has produced over 40 shows, including the mainstage at the INSTALL:WeHo art festival in 2012 and 2013, a retrospective on gay playwright Robert Patrick in 2014, Drag Diaries in 2015, and Yes Sir! Stories in Leather in 2016.
Film/video/new media (writer/producer)
Call me Joe a short HIV awareness campaign won OUTRATE award in 2009
Storyteller, a feature, played NYC Fest and Heal the Bay Fest in 2011
Sledge noir film played Silver Lake Film Fest in 2010
The Strippersons a funny Webseries about a family of gogo boys and strippers in 2009
Homewrecker Houseboy the first internet gay soap in 2000
Tanya Roberts Tahiti Village a hugely successful short with Drew Droege in 2012