Broadwater Blackbox 6324 Santa Monica Blvd, Los Angeles, CA 90038
Tue 6/6 @ 8pm  Tue 6/13 @ 6:30pm  Thu 6/15 @ 8:30pm 
Sat 6/17 @ 4:30pm Tues 6/20 @ 5pm  Thu 6/22 @ 9:30pm  Sat 6/24 @ 12:30pm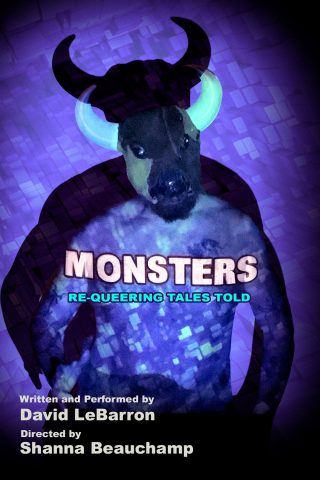 MONSTERS Re-Queering Tales Told
Queer people have had our stories ripped away. History rewritten by the patriarchy. Love shamed where it once blossomed. Power taken where it should thrive. What if we took back the narrative? Put the queer back in myth? David LeBarron does just this with his new play Monsters. He tells 4 stories from various myths through his intensely queer lens. Embrace the possibility that what they call Monsters are actually our heroes! 
Monsters is a 50-minute play appropriate for 16 year-olds and up. It has strong queer themes and language/situations that may not be appropriate for some including sexual abuse, humiliation, drug abuse and reference to hate speech.
Directed by Shanna Beauchamp
Written and performed by David LeBarron
Pan's Striptease written by Rebecca Graul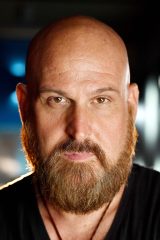 DAVID'S LEBARRON
David's love of storytelling started in 3rd grade when he read and reenacted the story of the birth of Athena. Taken by the "Muses" he wrote and directed many plays in his backyard, making props and sets out of his Mom's linen closet and living room furniture.  Luckily, he was never told to stop. So he never did. He continues to weave his tales through theatre, film and storytelling: of note: Achilles, First Elders, No Room for Shakespeare, The Complete History of Drag in a Few Mo-mo and his children's book When Carrots Ruled the World. He can be seen storytelling in any venue that'll have him and often with his band Half Tongue Tribe. His Mom's sheets are safe but nothing else is.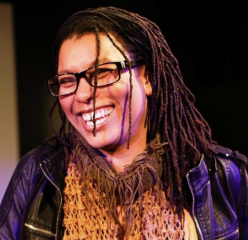 SHANNA BEAUCHAMP
Shanna attended Solano College Theatre's 2-year Actor Training Program graduating in 2000. In 2002 Shanna attended the Drama Program at University of North Carolina School of the Arts (UNCSA) graduating from the Directors Training Program in 2006. Before making a home at KPET Shanna worked at various theatres including teaching voice and speech at UNCSA as summer faculty, working at the O'Neil Center on the workshop production of In the Heights. Working at The Kennedy Center for the Performing Arts as Director in Residence for the Theatre for Young Audiences. In 2008 She began working with Kaiser Permanente Educational Theatre and is currently directing The RISE UP Program. She began creation with David in 2009 with The Sex Life of Achilles. She still works on a variety of acting, stunt/stage fighting, facilitating, producing, directing and choreographic projects in the realm of activism, theatre, TV and film.
More reading on Sacred Truths in Myths?
Lost Goddesses of Early Greece: A Collection of Pre-Hellenic Myths
BLOG by Karen Tate   https://www.karentate.net/