Jeremiah: Magical Slut of Midärd is available here!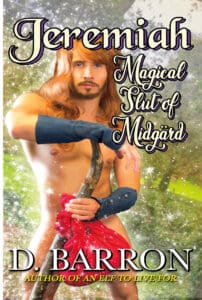 A silly, sexy romp through a cursed queendom by a hot young man who was unaware he possessed sex-magic!  Thrown out of the sorcerer's tower for having a three-way with the stable boy and a knight, Jeremiah bangs, boffs, screws, swallows, boinks, shags, humps and bumps his way out of and into trouble. New and old friends come to his aid as he unravels the mystery of a hexed queendom.  Will he accept his hidden magical abilities?  Can Jeremiah save the cursed Queendom of Phalosia? If any slut can do it: Jeremiah can!              BUY YOURS NOW!
"I had to make myself laugh. I needed it. Maybe you do too? Here ya go."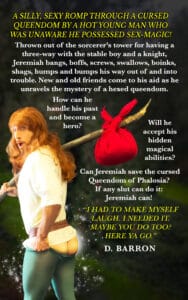 ---
An Elf to Live for is available here: BUY NOW ON AMAZON! 
Sexy-Funny-Erotic-Gay-Elven-Storytelling!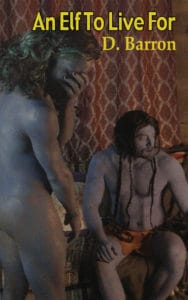 Every Elf deserves love. If this truism is the will of the Goddess, why does it seem so impossible for Fruck and Grim? In this gay Elf erotica, these two former warriors find themselves thrown together in their twilight years, accidentally married and terrified of the other's expectations and their own limitations. Their very long lives have been burdened with despair, estrangement, war, violence and slavery by human scum. Alone, they have served masters, monarchs, sword and satyr but now, together, can they serve love? Get yours NOW!